Volunteering can be great fun and you can make a real difference not only to others, but also to yourself.
There are lots of different ways you can get involved in volunteering right here in North Devon and the Volunteer Centre is here to help.
You can use our volunteer recruitment website, Volunteer Connect. This allows you to:

Sign up and create your profile – a quick and easy process
Edit your profile and preferences
Search for suitable volunteer roles in North Devon
Login and see invitations from organisations to apply for positions.


Click here to go to Volunteer Connect

We also produce a monthly bulletin with detail of our latest opportunities. Click here to download a copy of the bulletin.
Alternatively you can contact the Volunteer Coordinator to make an appointment to discuss volunteering and the opportunities that may be available to you.
Opportunity of the Month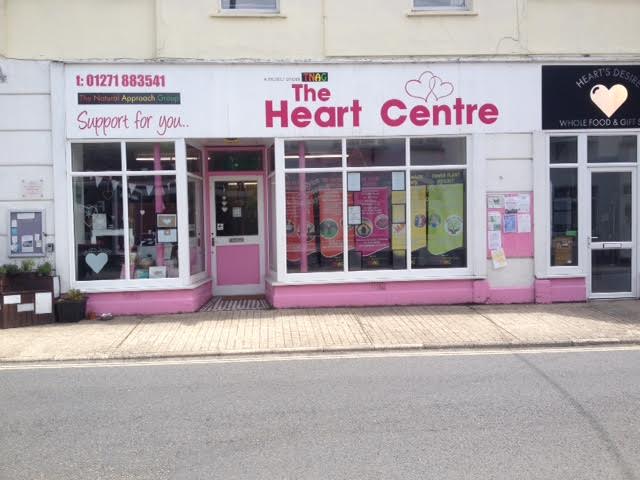 The Heart Centre
The Heart Centre Combe Martin is a community support centre that provides advice & guidance, support, counseling, workshops & therapies for families and individuals who have suffered from or are suffering, abuse, trauma, grief, ill health, physical or mental disability, as well as assisting those suffering from low self-esteem, depression, anxiety or PTSD, poverty & children with learning or behavioural issues.
We provide free to the client a counseling service that aims to see someone as quickly as possible enabling us to be there when they really need help. We don't believe that someone who is vulnerable should be on a waiting list for months when they have had the courage to ask for help.
We are working with other agencies in the area that can refer their clients directly to us. The Heart Centre works with local groups and organisations that ensure support is available wherever it's needed. Partners include :- local schools, children's centre's , Families in Grief, Splitz, NDADA, Woman's Aid, Depression & Anxiety Services, Devon Parent Partnership, Cruse Bereavement Care, The Oak Centre, Wand, Bright Futures, NDVS, Project Search, One Ilfracombe, North Devon District Hospital, NHS & Social Services.
The Heart Centre is initiating the FIRST non-discriminating befriending service in North Devon. There are no limits on age, gender or need. Many people suffering from isolation and loneliness, which has a severe impact on mental health, are in remote places in North Devon.
Please visit our website for more information http://www.devonheartcentre.co.uk/
Volunteering Opportunities at The Heart Centre
Heart Centre Project Manager
We require an enthusiastic project manager with a can do attitude that can oversee the day to day running of the centre. This will include administration & filing, booking appointments, answering the telephone, liaising with other agencies, our councilors and referee's as well as helping clients access the help they need through our services.
We would ideally like someone who is warm, friendly & approachable with experience in administration, managerial or leadership experience & is computer literate; having had experience of a service industry that is empathetic to clients needs, ie a Charity or counseling / support centre.
You will need to have a current First Aid Training Certificate & Enhanced DBS check.
Heart Centre Shop Assistants
We require assistants to help with the day to day running of the Heart Centre's Whole food & Gift shop 'Heart's Desire'. Tasks would include stock replenishment, daily health & safety checks, stock ordering, cash handling, serving the general public as well as making up & sending out orders by post, keeping stock lists up to date in the online shop and social media postings to boost sales.
We would ideally like people who are friendly, outgoing, with a can do attitude, which is more important than experience but it would be advantageous if you had cash handling, retail or hospitality experience & a health & hygiene certificate.
Befrienders
We are looking for volunteers that could offer to become befrienders to some of our most isolated and lonely clients. Many of the referrals for befriending that we get here at the Heart Centre are because of the location or client type. These vulnerable people are the ones that do not fit into other befriending services criteria.
We are looking for befrienders that will go that extra mile to see someone in need and provide some human contact & interaction in their lives. If you feel you could offer your time to visit someone please get in touch.
For more information on any of the opportunities available
Please contact Karleen at The Heart Centre 01271 883541